Curriculum
Our curriculum is highly academic, diverse, and individualized for it allows each child to progress at his/her own pace. We cater to children ages 2.6 – 6 years of age. We cluster the children in mixed-aged groups where they all work together in a classroom. The older children help the younger ones get acclimated while at the same time gaining a sense of responsibility and community; as the younger ones learn from the older ones and transition into their educational journey with great ease.
Based on the Montessori philosophy of developing a sense of initiative and independence, during the morning work time each child chooses "materials, activities or jobs" from the areas of the classroom: Practical Life, Sensorial, Language, Math, Geography, Science, Art and The Outdoor Classroom.
"Education is a natural process carried out by the child and is not acquired by listening to words but by experiences in the environment."
–Maria Montessori
Practical Life
This area is developed with exercises and everyday tasks designed to help children develop their fine motor skills, focus and concentration, self-esteem, grace and courtesy.  To support the care of self-philosophy, the children can choose to make themselves a snack during our morning work time.
"In order to learn the child must first concentrate… But no one can force concentration upon her. She develops concentration by fixing her attention on some task she is performing with her hands…"
-Maria Montessori
Geography & Science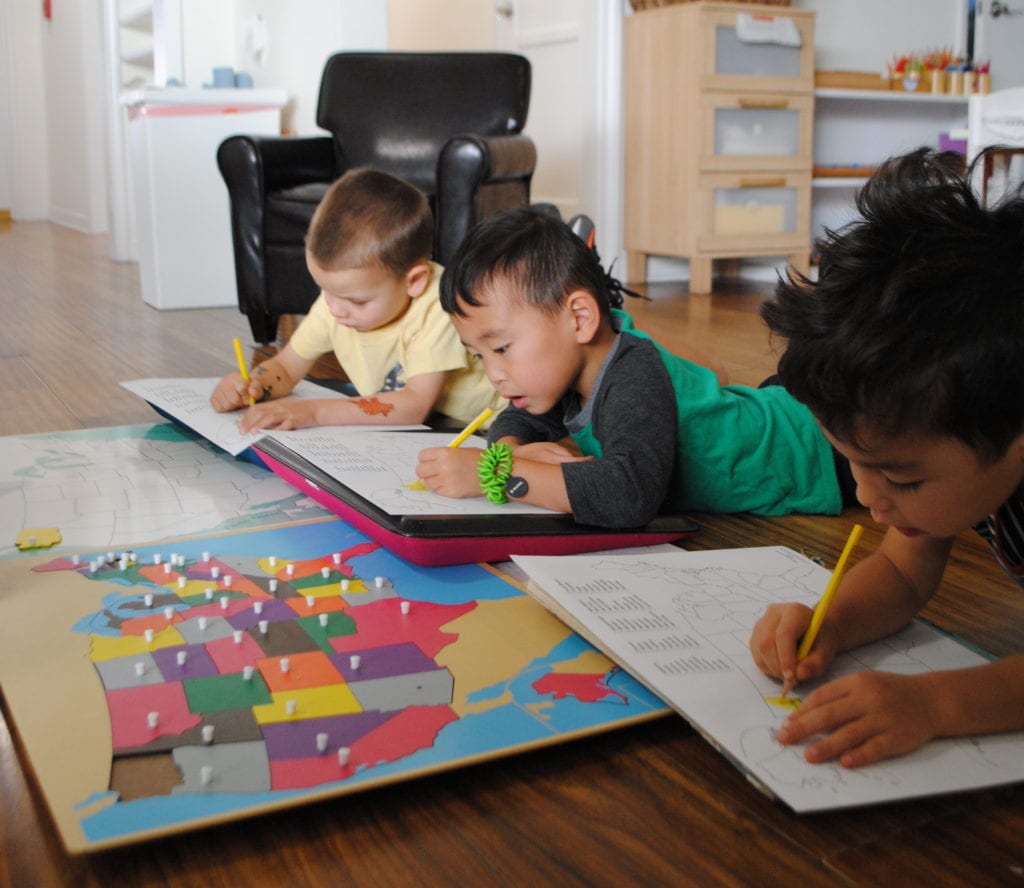 Our children study and have access to a wide variety of materials covering astronomy, oceanography and geography.
Geography maps and the globe provide children with a practical understanding of their world and a sense of belonging. At our school children are study a new continent every month. Activities that cover the different cultures and traditions of each given continent are included and the children are exposed to the music, foods, language & art.
Sensorial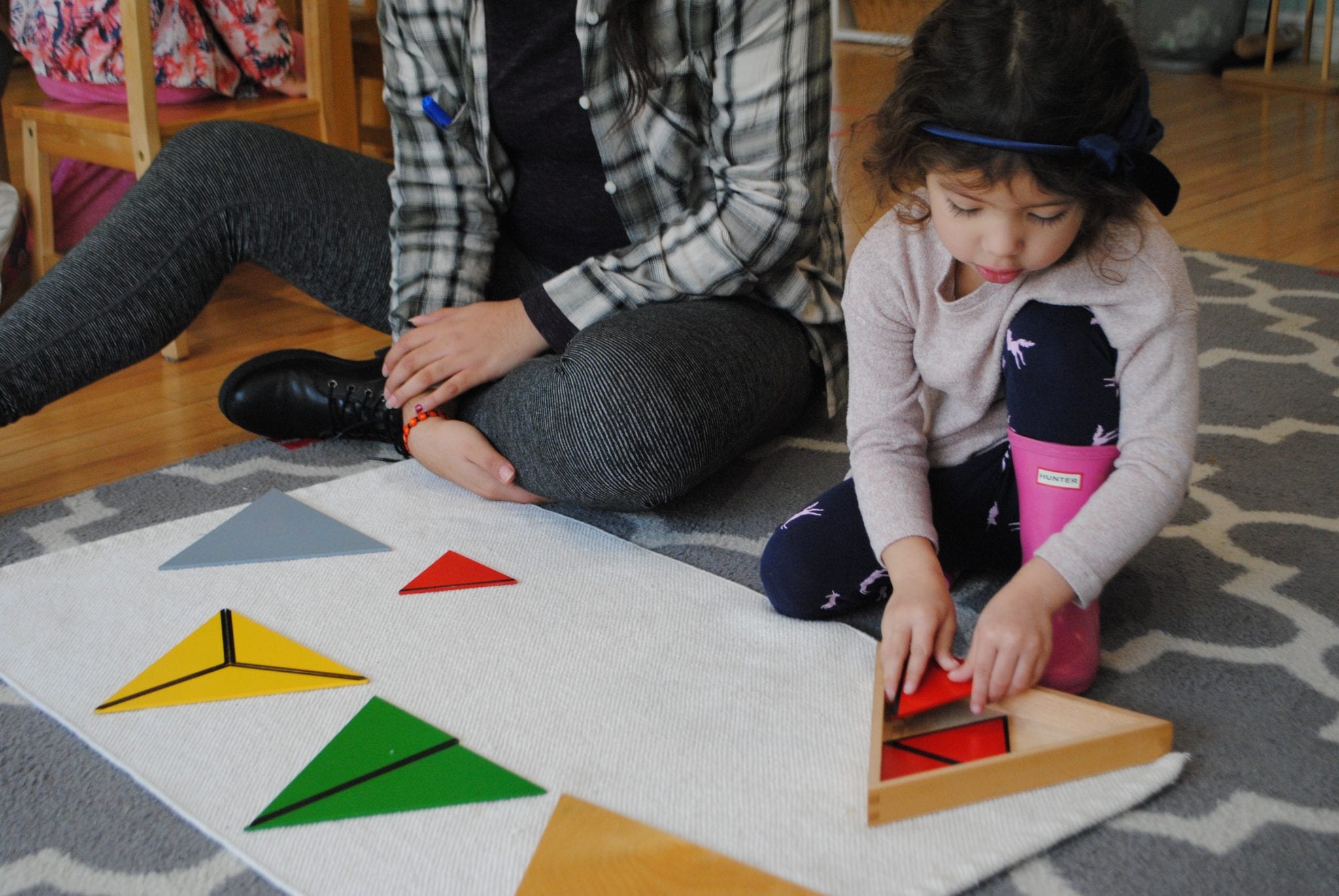 The Sensorial Materials help the children refine their senses in order to understand what they see, feel or smell. Developing the senses is the first step in developing critical thinking. In our classroom, the children will work with materials designed to help sharpen these senses. Simple exercises in recognizing differences in shapes, size, color, texture, and sound will aid in preparation for the future's more challenging exercises in math, reading, and writing. Basically, the sensorial materials are part of the Montessori philosophy where the curriculum develops good studying skills and a lifelong love for learning!
"The senses, being explorers of the world, open the way to knowledge."
-Maria Montessori
Language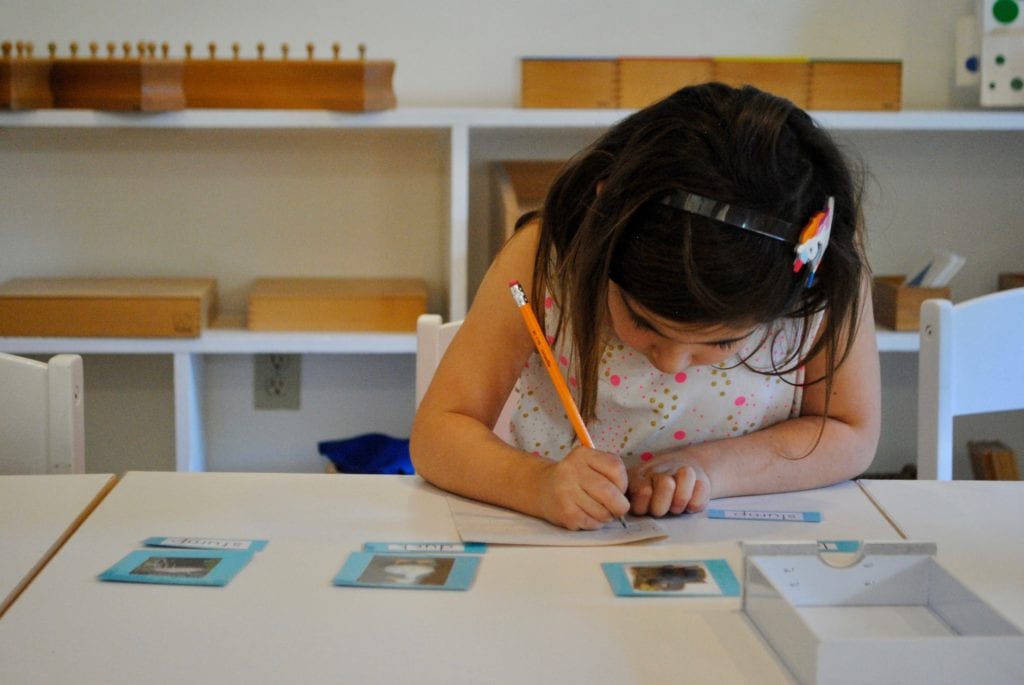 By the age of 2.5, children have created a general idea of the world around them through their senses. They have a natural need during this sensitive period to put these experiences in words. The initial Montessori approach to language focuses on the children's natural need to label, name, and classify everything around them. The child then explores the written word through concrete experience; by manipulating the wide variety of tangible phonetic materials, the child spontaneously realizes that putting sounds together can "make words" not only to communicate information and ideas but also to express needs and emotions.
Math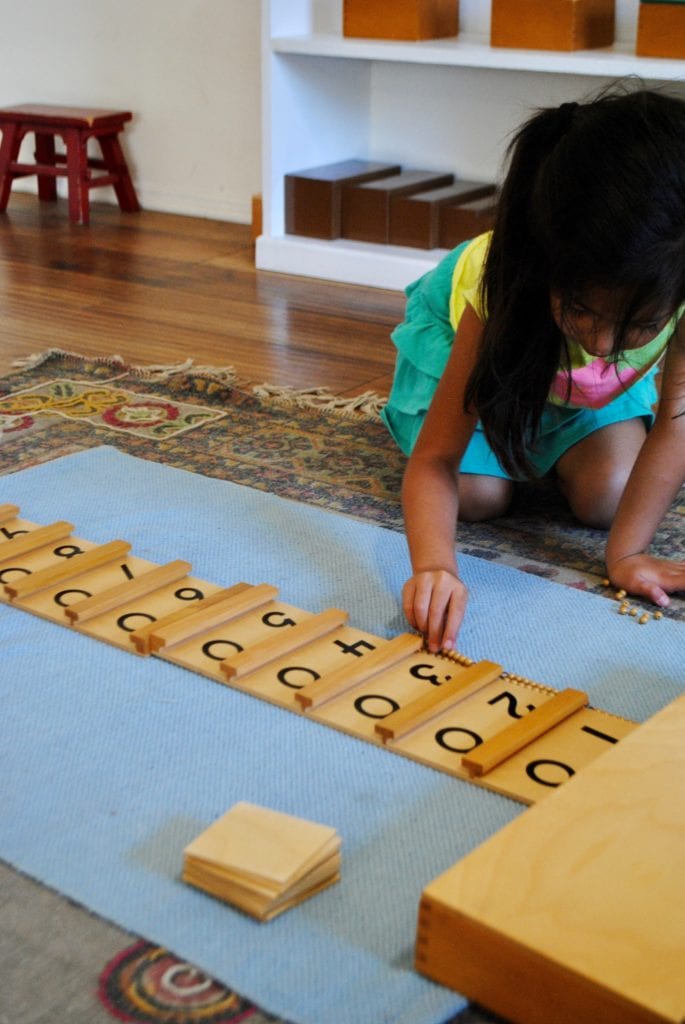 The mind not only has the power of imagination, but it is also able to think abstractly. It can rearrange things just by thought. The power of man, to imagine and to have abstract thoughts, is what makes us intelligent beings. This power can be increased in value with precision. So, the part of the mind, which is built up with exactitude is called: "The Mathematical Mind." It is part of the mind that helps us put in precise order abstract thoughts, vague ideas, into clear thoughts. For this reason Dr. Montessori designed a Mathematical program of depth and complexity where concepts are grasped by absorption and not memorization. The child learns through logic and concrete manipulation, not through abstract concepts.
Like other aspects of the Montessori experience, mathematical elements are presented to the children in a visual and tactile manner. Children learn to recognize and understand numerals and quantities as practical elements. They are allowed to experience and feel comfortable with these concrete materials before learning about more abstract math problems.
Music 

Musical instruments are available to help the children learn more about music composition, rhythm, patterns, instruments, and musical terminology. Furthermore new composers and styles of music are introduced and explored each month.
Art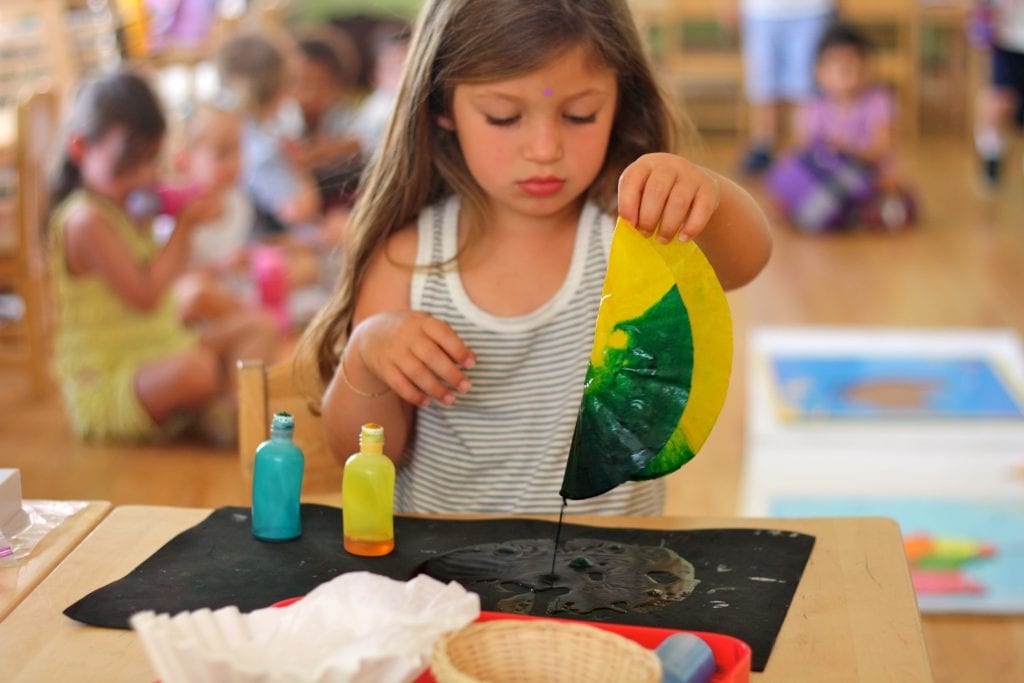 In addition to the weekly art classes, individual art activities are always available to the children. They can pick from cutting exercises, free drawing, collages, paper punching, gluing, crafting and origami. An art easel is also available for free painting during the morning work time. Furthermore the children are exposed to various known artists on a monthly basis. In conjunction with the enrichment art class, children experience different art mediums and techniques that are centered on the particular artist presented.
Outdoor Classroom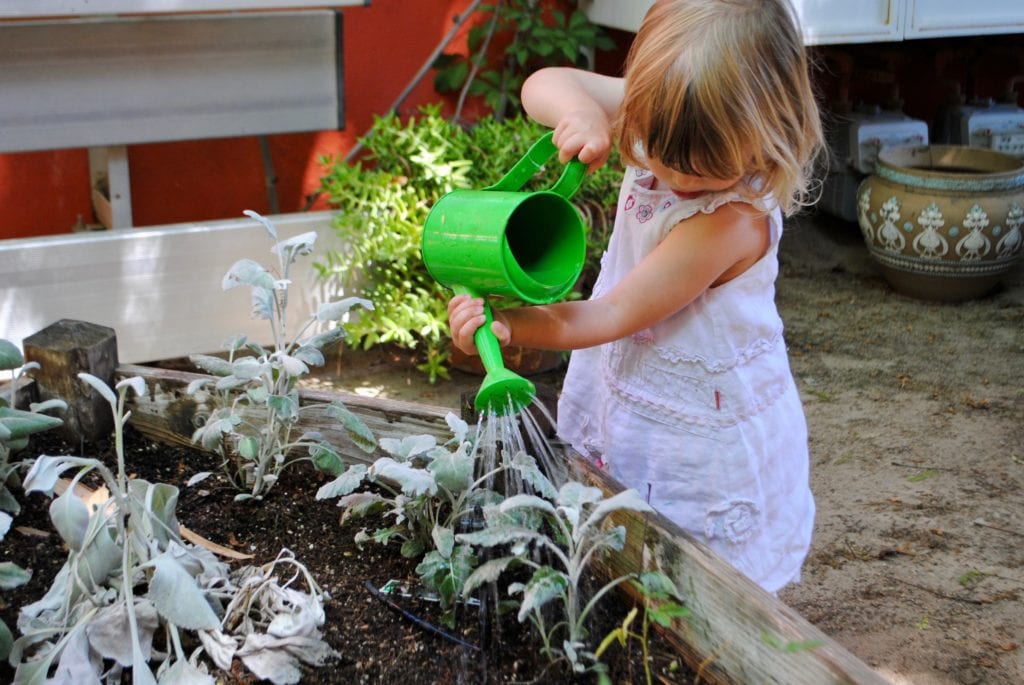 Maria Montessori believed that nature itself is to be a source inspiration for learning. She believed that children are fascinated with nature, and rightly so for nature is a fascinating topic. She also encouraged educators to get children out into nature, rather than keep them inside the classroom walls.
At Exploring Minds, we encourage students to interact with our plants and animals. Children grow their own vegetables and identify different kinds of flowers and plants. They partake in various activities that refine their sensitivity to nature and help them appreciate the finer things our surroundings have to offer. These daily task help the children develop a sense of responsibility, as well as an understanding of and appreciation for the delicate balance of nature and the basic life cycle. For instance by building a bird-feeder the children feel the sense of responsibility towards the animals we share the earth with and furthermore they develop awareness for birds and their importance in the Natures' flow.
"Whoever touches the life of the child touches the most sensitive point of a whole which has roots in the most distant past and climbs toward the infinite future."
-Maria Montessori
Peace and Tranquility Area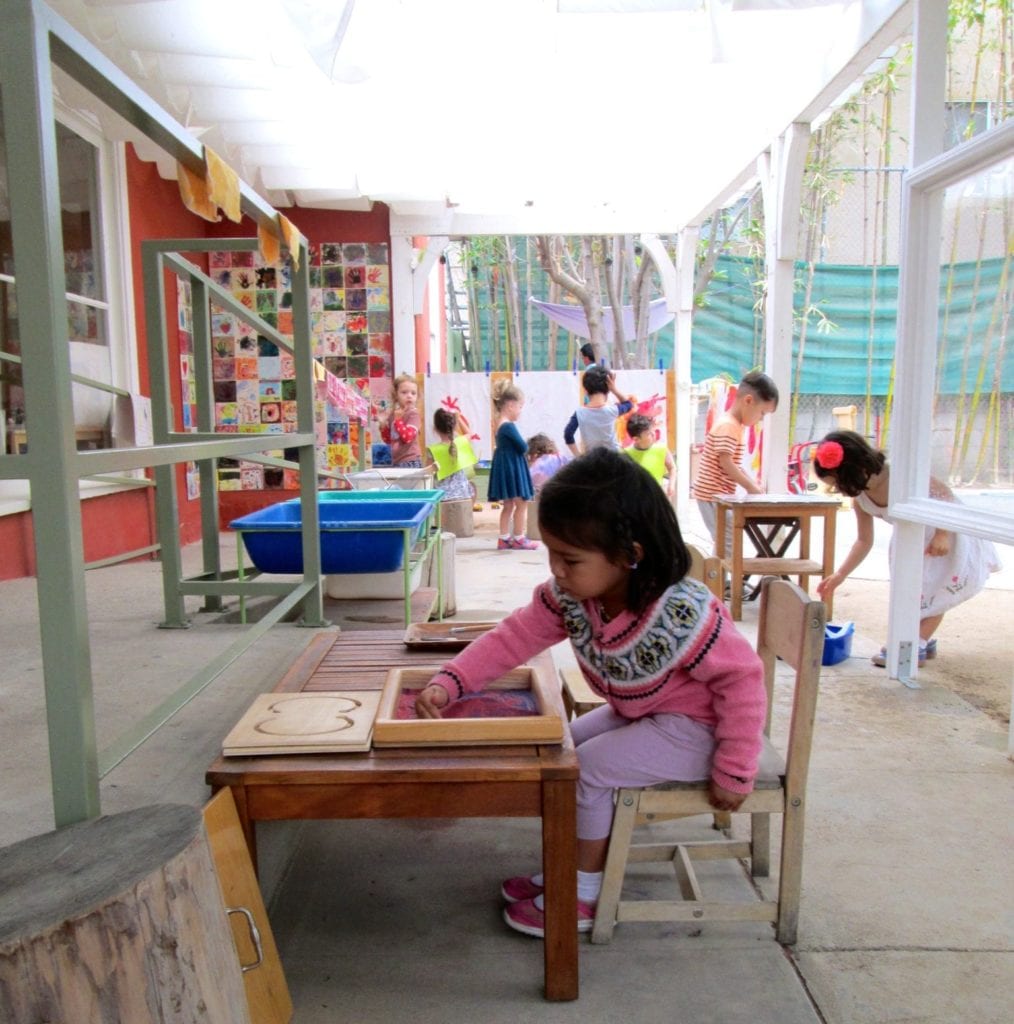 This area is designed to offer opportunities for the children to take a minute to sit quietly and reflect on their thoughts. There are several materials that help develop self-soothing tools and introspective awareness.
"The things he sees are not just remembered; they form a part of his soul."
–Maria Montessori